Services At Goin' to Grandma's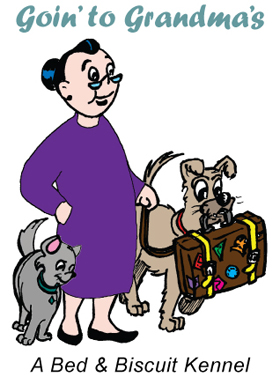 Goin' to Grandma's was voted Small Business of the Year for 2012 by the Sierra Vista Chamber of Commerce. Thanks to everyone for supporting us!


Each dog has a spacious indoor/outdoor run. Dogs from the same family can be together or in separate runs, whichever way you think they'll be happier. The inside area is climate controlled with coolers in the summer and heaters (even the floors are heated!) in the winter. The outside run is completely covered and shaded for protection from the weather.
For more information about boarding, click here.




The cats at Goin' to Grandma's have their own separate building with individual condos. Great care was taken in the design of the cattery to create a pleasant and peaceful boarding experience for your feline friend. Each condo has a window that overlooks our garden. There is also an outside "porch" so your cat can safely enjoy the sights and smells.
For more information about cat boarding.
For information on boarding animals other than dogs or cats (Horses, Birds, Reptiles, etc.), please contact Goin' to Grandma's at (520) 378-6000



Bathing and brushing is available to the general public. Just call for a reservation!
Toenails can be done on a walk-in basis, call ahead to see if a groomer is available.

For our boarding clients we are able to offer full service grooming. Christy and Whitney will be happy to take care of your pet's grooming needs, whether that is giving Fido a bath and brush or Fifi a haircut.
For more about our groomin' services.




Our country store has treats, toys and goodies for your furry friends. We have a selection of cat and dog toys, as well as lots of chewy treats for your canine friend. All of our rawhides and chews are manufactured here in the USA. They are chemical and pesticide free.
For more information on our products click here.




When you're at work or play, your pets can be having fun and getting the attention they need (instead of chewing or scratching on the living room furniture!). They'll go home tired and ready to relax, just like you! Drop them off on the way to work or play and pick them up on the way home—they'll love it!
For more information about Doggie Day Care, click here.




We offer a basic manners class, Canine Good Citizen class and agility. Basic and CGC are taught by Rocky Boatman, dogs learn how to walk on a loose leash, wait, sit/stay, down/stay, leave it, coming when called, stand for examination and trick training.
For more information about our classes, click here,