Goin' to Grandma's Boarding Facilities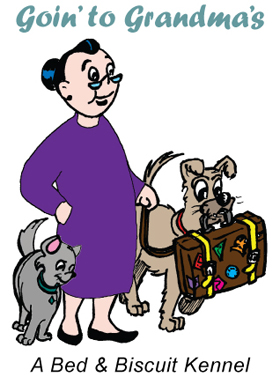 Goin' to Grandma's was voted Small Business of the Year for 2012 by the Sierra Vista Chamber of Commerce. Thanks to everyone for supporting us!
Goin' to Grandma's services for your pets needs.
Goin' to Grandma's is situated on over 20 acres, providing large play areas and spacious indoor/outdoor runs. The inside area is a comfort controlled environment of cooling or heating, (radiant heated floors!). Your pet can move at will through their individual doggy doors to the outside run where they can enjoy the sun or shade depending on the time of day. Dogs from the same family can be together or separately, whichever way you think they will be happier. We can provide everything your pet needs during their stay, making it easy and simple for you.
At "The Catnip Inn" The felines at Goin' to Grandma's have their own separate building with individual condos. Great care was taken in the design of the cattery to create a pleasant and peaceful boarding experience. The separate building allows the cats to have their very own ventilation and laundry systems. Your feline friend has a spacious condo with access to a safe and secure outdoor porch (weather permitting) that overlooks our garden.
When you're at work or play, your pets can be having fun and getting the attention they need. They'll go home "dog tired" and ready to relax, just like you! All of our Camp participants are temperament tested to determine if group socialization is beneficial to them. Our Camp Counselors are trained in dog behavior and body language to ensure your canine friend has a positive and safe experience. Vaccinations are required. Dogs over 6 months must be spayed or neutered.
Day care is available Monday thru Friday.
"When they stay with Mary, my husband and I feel very comfortable and confident that the boys get love, care and plenty of cookies when we are away. The facilities are wonderful and you can rest assured that Mary, the staff will treat your pets with the loving care they all deserve."