Boarding your dog at Goin' to Grandma's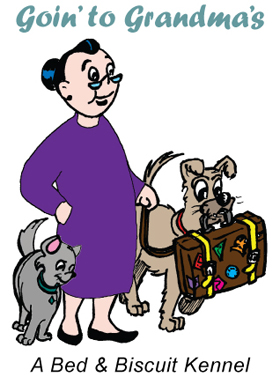 Goin to Grandma's was voted Small Business of the Year for 2012 by the Sierra Vista Chamber of Commerce. Thanks to everyone for supporting us!
Boarding at Goin' to Grandma's
Goin' to Grandma's is situated on over 20 acres, providing large play areas and allowing each dog a spacious indoor/outdoor run, not a crate like smaller indoor facilities. The inside area is climate controlled with coolers in the summer and heaters (even the floors are heated!) in the winter. The outside run is completely covered and shaded for protection from the sun and the weather. Dogs from the same family can be together or in separate runs, whichever way you think they will be happier. We can provide everything your pet needs during their stay, making it easy and simple for you. If you'd like to bring a favorite toy you may, but Fido and Fifi will stay quite busy watching all the activity in the area with other dogs, birds, bunnies, us. For sanitation reasons we provide bedding for all of our canine guests.
FOOD
When you check your pet in, you will be asked if your pet is used to eating once a day, twice a day, or if you free feed. We will ask for specific amounts at each feeding. Your furry family member will also get a mid-morning snack and a treat at bedtime. We feed NutriSource Lamb Meal & Rice to all of our canine guests. It is a premium food that is gentle on tummies. To learn more about NutriSource, visit their website at
http://www.nutrisourcedogfood.com.
If you prefer to bring your pet's food from home, we request that you pre-measure and package the food in individual bags. Bring only enough for your pet's stay plus one extra day. If your pet is on a prescription diet, please provide that for us in individually bagged meals.
MEDICATION
There is a .70 cent charge for administering medication or supplements to your pet. If you have a diabetic pet that requires insulin injections there is a $3.05 charge per injection.
Please make sure that the instructions for your pet's medications are clear.
VACCINATION REQUIREMENTS
Dogs on the premises must have current vaccinations for rabies, parvo/distemper, and bordetella. 
Your veterinarian can provide you with the necessary documentation.
Vaccination requirements may be waived with written recommendation from your veterinarian.
DAILY RATES (All prices subject to change)
Under 30 lbs: $24.30 per day
31 to 100 lbs: $26.30 per day
over 100 lbs: $28.30 per day
Camp Bow Wow: $15.00 per day, M-F. Additional dogs $8.00 M-F
Camp Buddies Sat., Sun. & Holidays: $8.00 per day 1-4 hours. Dogs must be able to participate in Camp/Daycare and go to Camp during the week. 
Daycare: $20.00 per day, M-F
Five Day Pass $85,00
Daycare Passes: $300 for 20 days.

There is a multiple pet discount for pets sharing a room. With two pets you will receive a 10% discount off of your boarding rates, 15% for three pets, and 20% for four or more.
The day you check in, regardless of time, will be your first day's charge. Our check out time is 11:00 am, unless your dog is being bathed. If you would like for your dog to get a bath on the go-home day, you will only pay for the bath and the check out time will not apply. On Saturdays, if you pick up before 1 PM, there is no boarding charge for Saturday. 

Saturday 5 PM pickup or drop off $15 charge in addition to that day's board.
Sunday 8 AM or 5 PM pickup or drop off $15 charge in addition to that day's board.
Holidays, 8 AM or 5 PM pickup or drop off $15.00 in addition to that day's board. The only holiday we do not do special pickup or drop off is Christmas Day.
EXTRAS
Playtimes
: Let Fido and Fifi spend time with a pet lover. We'll play ball, take 'them for a stroll, or just cuddle them like you do at home. The cost is $4.50 per session, with up to three 15 minute sessions per day. Do you have more than one dog? Still only $4.50.
Friday Night Karaoke
: A singing session at bedtime. It's FREE!!