Goin' to Grandma's gromming to spruce up your pooch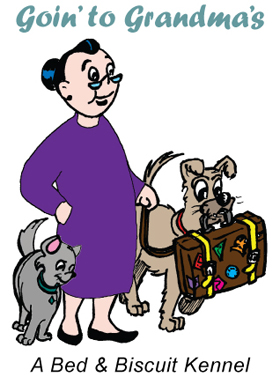 Goin' to Grandma's was voted Small Business of the Year for 2012 by the Sierra Vista Chamber of Commerce. Thanks to everyone for supporting us!
Your Family Pet in need of a trim or more?
Our grooming staff will be happy to take care of your pet's grooming needs. Bathing and brushing, toenail trimming and teeth brushing are featured. For our overnight guests we are also able to provide a stylish trim or haircut.

Grooming rates vary based on the service requested and the individual pet, so please ask for a quote. Call for a reservation. Toenails can be done on a walk-in basis. Call ahead to see if a groomer is available.


LaundroMutt
Dirty dog? Smelly dog? LaundroMutt is a self service pet wash for the D.I.Y. pet parent.
You supply the dog and the labor, we supply the rest. We even clean up the mess! No more bending over the tub, clogged drains, or cold baths with the hose.