Goin' to Grandma's Offers's Doggie Day Care for your pet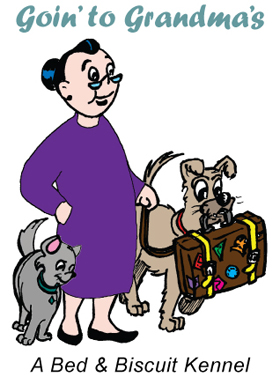 Goin' to Grandma's was voted Small Business of the Year for 2012 by the Sierra Vista Chamber of Commerce. Thanks to everyone for supporting us!
Goin' to Grandma's Doggie Day care Services
When you're at work or play, your pets can be having fun and getting the attention they need (instead of chewing or scratching on the living room furniture!). They'll go home tired and ready to relax, just like you! So drop them off on the way to work or play and pick them up on the way home—they'll love it!

All of our Camp participants are temperament tested to determine if group socialization is beneficial to them. Some dogs do not enjoy the company of other dogs! Some of our guests need to be integrated slowly to build confidence and maintain a positive attitude. Our Camp Counselors are trained in dog behavior and body language to ensure your canine friend has a positive and safe experience.

Boredom can lead to destructive behaviors such as chewing, licking, digging, or barking. Play keeps a dog's body and mind active and builds a healthier, happier, better behaved pet. Day care is an excellent way to give dogs the socialization and exercise to meet their needs. The cost is only $20 per day (cheaper than your couch!) Dogs over the age of six months must be spayed or neutered. Vaccinations are required, reservations are recommended.


Day care is available Monday thru Friday, closed on Holidays.
Note: All prices subject to change

Discount passes are available!
$85.00 Five day pass, 
must be used within 30 days of purchase
$100.00 Ten Day pass (under 4 hours of daycare per day)

$300.00: Twenty day pass, 
must be used with six months of purchase

Our overnight canine guests can also participate in Camp during their stay for an 
additional $15.00 per day.

An application MUST be completed and returned before your furry friend can attend.

pdf application
word application

Please return the application when complete either to Goin to Grandmas,
or email it to us!