About Goin' to Grandma's Catnip Inn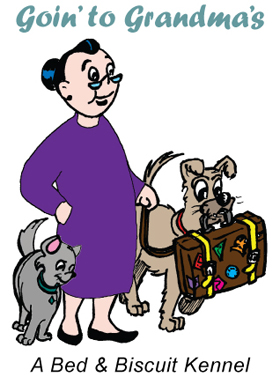 Goin' to Grandma's was voted Small Business of the Year for 2012 by the Sierra Vista Chamber of Commerce. Thanks to everyone for supporting us!
Grandma's Catnip Inn
The feline guests at Goin' to Grandma's have their own separate building with individual condos. 
Great care was taken in the design of the cattery to create a pleasant and peaceful boarding experience for your feline friend. Each condo has a window that overlooks our garden. 
There is also an outside "porch" so your cat can safely enjoy the sights and smells of the great outdoors.
FOOD
The dry and canned food for cats is NUTRISOURCE Super Premium Pet Foods. You may bring your own food if you prefer, we will be happy to feed it for no additional charge.
MEDICATION
We will administer any medications that you supply for your cat. There is a 60 cent charge for this service. Unfortunately, we are not able to accept diabetic cats for boarding.
VACCINATION REQUIREMENTS
All cats must be in good health and have current vaccinations for rabies and feline distemper. The vaccination requirements may be waived upon written recommendation from your pet's veterinarian.
BOARDING RATES (subject to change)
$21.00 per day.

Our check out time is 11:00 am. The day you check in is your first charge regardless of your check in time. If your cat is picked up by 11:00 am the day you check out you will not be charged for that day. We offer a multiple pet discount for pets sharing a room.
Saturday 5 PM pickup or drop off $15 charge in addition to that day's board.
Sunday 8 AM or 5 PM pickup or drop off $15 charge in addition to that day's board.
Holidays, 8 AM or 5 PM pickup or drop off $15.00 in addition to that day's board. 
The only holiday we do not do special pickup or drop off is Christmas Day.
EXTRAS
Cats can get a 15 minute Cuddle Time session with a staff member for $4 per session (up to two sessions per day).