Testimonials from Goin' to Grandma's Customers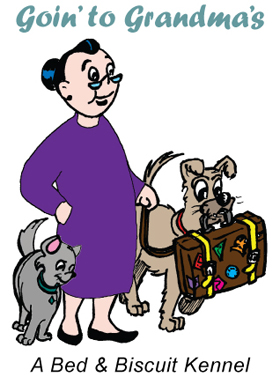 Goin' to Grandma's actively participates in the community, including the following events.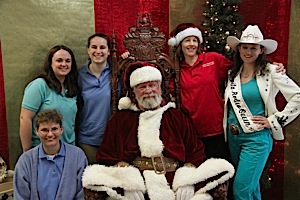 Santa for Cochise County Humane Society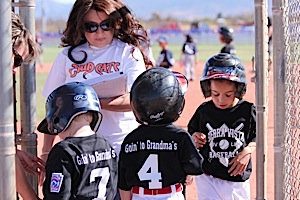 Sierra Vista Little League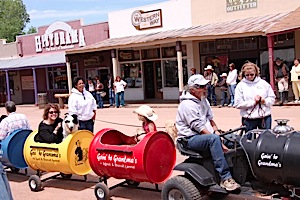 Tombstone Small Animal Shelter
Check out our online reviews at www.google.com


"I love Goin' to Grandma's, and I'm pretty sure my Golden Retriever, BoyBoy, loves it just as much as I do. The facility is great, the staff is friendly and knowledgable, and my dog always seems a little sad to be leaving such a great place when I pick him up from a stay there. The owner, Mary Bailey, seems like a canine guardian angel to all dogs that stay there. While walking through the kennels with her, every dog was happy to see her and wagging their tail, and she knew all of their names (100+) by heart. I will always use Goin' to Grandma's for my pet boarding needs."
Tim Paull, happy client.


"Our two Jack Russell Terriers had a great week staying here. When we entered the office to pick them up they were having a fun time exploring the area. The owner/manager and caring staff obviously are doing something they love and gets aquainted with all their boarders. We would not hesitate to use this establishment again. The prices are reasonable."
Ken


"Excellent: We took our two dogs and were very pleased with the service. It is very spacious, affordable, and pet friendly. Highly recommended."
Stella


"Mary and Glen and the whole crew at Goin' to Grandma's are the best! My Daisy ALWAYS has a great time at camp! When I don't take her to Grandma's I get the 'stink eye'. Goin' to Grandma's the ONLY place I would trust my best friend with. If you are new to the area and have a pet, you need to know about this amazing "home away from home". Whether it's boarding, grooming, dog washing, or daycare, there is only one place in Cochise County…Goin' to Grandma's. Daisy and I give Goin' to Grandma's 1 thumb and 1 paw up"!
Lindsey Arnold


"My dog always loves Goin' to Grandma's. I wish he would act like he's going to miss me when I leave him there! He had his picture taken with Santa when he was there for Christmas. The staff always loves to see Jack come in and I know they take great care of him. It's a relief to me to have such a great and caring place to take him."
Ben P.


We have been taking Raisin (or is it Raisin has been taking us) to Grandma's since we first came to the area looking for a home. Our realtor recommended the facility and we all have loved the place and the staff ever since then. Raisin has never stayed at another facility in this area and he never will. He enjoys going to Day Camp and boarding there. When we come up to the gate he automatically starts scratching "let me in". He has had his picture taken with Santa and when he comes home from there whether it be day camp or boarding we are always tickled to see his report card. He gets all his grooming done there and loves all of "his" staff at Grandma's. Thank you for being there from all 3 of us.
John, Pat and Raisin Sutherland


I have known Mary for twelve years now. I am the proud mother of two chocolate Labradors that my husband and I adore. Prior to Mary opening Going to Grandma's, our boys were always cared for by their live-in nannies when we were out of town. In addition to boarding, I also take the boys there for grooming at least four to six times per year. On our last grooming visit, Mary discovered a growth on my oldest boy's hock that needed to be removed so in addition to your pets looking and smelling wonderful, they pay a great deal of attention to detail and are careful to bring things to your attention. It is comforting to know that the boys are able to share a spacious, heated & cooled kennel when they stay with Mary. My husband and I feel very comfortable and confident that the boys get love, care and plenty of cookies when we are away. The facilities are wonderful and you can rest assured that Mary, Glen and their staff will treat your pets with the loving care they all deserve.
Lynn


After my husband and I moved to Sierra Vista I was trying to find a kennel for our Rhodesian Ridgeback, Sherman. I called a local vet to get a recommendation, without hesitating the lady said, "Goin' to Grandma's!!" She told me that is where EVERYONE, in the office (including the vet's) brought their dogs. I did some research and finally made a reservation. After picking Sherman up I was more than impressed. They gave him a report card (he was a happy camper, a social butterfly and his favorite activity was romping with his friends) PLUS they gave me pictures of him playing during his stay. During a later stay it happened to be his birthday and they even made him a dog safe cake and gave him a birthday party!!! The staff is caring and gives my dog the love he deserves when he's not at home. Sherman is now a regular for both Doggie Day Camp and Grandma's is the only place I will bring him for an extended stay. He now gets so excited when we turn down the road, he knows he will get to play. For the record I had heard one or two bad comments and I found out that any of the bad experiences were during prior ownership. The current owners, Mary and Glen are amazing! I wish I could take them with us when we have to move again.
Anna


Everyone is so nice and helpful. It seemed as if they were really happy to meet my dog and have her stay with them. Such a beautiful place with lots of stuff to keep Annie occupied while she was there. I've never seen anything like Goin' to Grandma's and the prices were very reasonable.