Employee of the Month at Goin' to Grandma's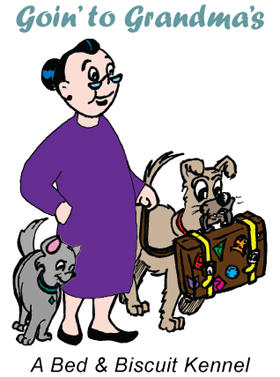 Goin' to Grandma's was voted Small Business of the Year for 2012 by the Sierra Vista Chamber of Commerce. Thanks to everyone for supporting us!

Goin' to Grandma's started an Employee of the Month recognition program in 2019 for our hard-working employees! Each month, all employees will vote for the person they think should be awarded this prestigious honor. The Employee of the Month receives a gift card, a beautiful suitable-for-framing Certificate of Appreciation as well as the coveted "Golden Pooper Scooper" and gets to have their picture taken wearing the Poop Emoji!
March/April 2020 Employee of the Month - Mandi Bohlen
Mandi started working for Goin' to Grandma's in February 2016. She quickly advanced to the position of Team Lead with her dedication and passion for our furry, finned and feathered guests.
Mandi currently shares her home with three "fat cats," Monkey, Muffin and Dahlia, and her beloved pit bill Seven, who just last year had surgery to have both of his eyes removed due to glaucoma. Mandi says, "Seven has adjuusted better than I ever thought he would. I'm so glad to still have him in my life."
Outside of work, Mandi enjoys trying new vegan recipes and sharing them with her f riendnnsn and co--workers. Thank you, Mandi, for everything you do! CONGRATULATIONS!

February 2020 Employee of the Month - Meg Hall
Meg started working in the office for Goin' to Grandma's in August of 2016. She has been a valued member of the front office team from the start and is always ready to greet clients or answer the phone with an enthusiastic smile.
Meg, her husband and two teenage children share their home with two dogs, Ms. Goose and Ms. Mandy, and a kitty named Pip. The family is actively involved in sports, school band, and various other community activities.
Thank you, Meg, for everything you do! Congratulation!
January 2020 Employee of the Month - Zoie Venable
Zoie was born and raised in Tucson, Arizona and is going to school for a degree in Homeland Security and Emergency Management. She hopes to finish her degree this year. Zoie shares her home with Duke, a Red Heeler Mix, and Mae, a Heeler Mix.
Zoie started working at Goin to Grandma's in July 2019 and quickly learned many different duties in the kennel. Presently Zoie is part of our Daycare team and loving it and the daycare dogs love her!
This is what some of her co-workers had to say:
"Zoie is a hard worker and helps without being asked"
"Has a good attitude and always willing to take extra shifts"
"Awesome at helping others!"