Employee of the Month at Goin' to Grandma's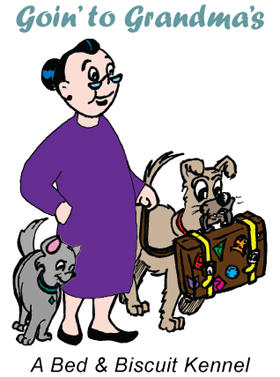 Goin' to Grandma's was voted Small Business of the Year for 2012 by the Sierra Vista Chamber of Commerce. Thanks to everyone for supporting us!

Goin' to Grandma's started an Employee of the Month recognition program in October of 2019 for our hard-working employees! Each month, all employees will vote for the person they think should be awarded this prestigious honor. The Employee of the Month receives a gift card, a beautiful suitable-for-framing Certificate of Appreciation as well as the coveted "Golden Pooper Scooper" and gets to have their picture taken wearing the Poop Emoji!
HERE ARE OUR 2019 EMPLOYEES OF THE MONTH
December 2019 - Del Walker
Del is a southern Arizona Native and was a teacher for 35 years. He also had summer jobs working as a forest ranger in Prescott, Arizona, drove the water truck at the Prescott Downs Race Track and worked at the Lowell Observatory in Flagstaff for a short time.
Del enjoys restoring antiques and other nostalgic items from the past. He has also remodeled three houses over the years.
Del has always had a love for animals. He and his wife Linda Walker, share their home with Blue, a Basset Hound, Bear, a Basset Hound mix and two cats, Poppy and Toby.
Del started working at Goin to Grandma's in 2010 and is a valuable member of our team. Del is our very own "Jack of all Trades" helping out wherever he is needed and is always willing to come in whenever there is a repair emergency.
November 2019 - Christy Olthof
Christy was born and raised in the Sierra Vista area. She joined the Goin' to Grandma's team in 2006 as a dog bather, was trained by Mary to groom later that year, and has been the grooming manager most of the time since. She competed in the Sierra Vista Groomer of the Year competition both in 2010 and 2013 with compliments from the judges. She thinks dog grooming is a lot of fun because there is such variety in the different breeds.
Christy bought her Golden Retriever, Sherlock Holmes XXIII (Sherlock) in Oct. 2010 when he was 7 weeks old, and started training him for Obedience and Rally right away. They competed in their first AKC Rally Match when Sherlock was 1 year old, taking 1st place. Since then they have earned 5 titles in AKC Rally and are on their way to two more, and they have competed at the Rally Nationals three times. They also have titles in Obedience, Lure Coursing, and Trick Dog. They also compete in World Cynosport Rally Limited, where they have earned 3 titles, one championship and multiple Awards of Excellence.

Christy says, "I love competing in Rally as it strengthens the bond between dog and handler while having fun together, and the camaraderie between exhibitors can't be beaten." Other hobbies include: Horseback riding, painting, Canine Musical Freestyle and staying active in the Greater Sierra Vista Kennel Club.
October 2019 - Melissa Copeland


CONGRATULATIONS to our first Employee of the Month!
Melissa Copeland has been with Goin' to Grandma's for 6 years. She started off as a kennel assistant and is now the main team lead for the kennel. Melissa says the best thing about working for Goin' to Grandma's is bonding with the pets and making them feel loved and secure because being away from home and Mom and/or Dad can be a scary experience.
"When a new pet guest comes in and is scared & nervous, I love to see our staff work together to make sure we are doing everything possible to help them feel better. It is very satisfying to see those pets respond to us and enjoy coming back", says Melissa, and "I would not want to work anywhere else!"
A few of the things employees have to say about
Melissa C:
"Always has a great attitude and positive leadership skills"
"Does a great job at keeping the kennel running smoothly"
"She's so cool and awesome to work with!"
Thank you, Melissa C., for all your hard work and dedication to Goin' to Grandma's!